Medical Device Reprocessing
In the 1980s, medical device companies began offering devices labelled as "single-use" as well as "reusable". Medical devices with the single-use label began to produce large amounts of waste, and, by the late 1980s many hospitals had established in-house reprocessing programs.1
Today, hospitals often send their devices to a third-party reprocessor. Working with a third-party reprocessor reduces acquisition cost and ensures that devices are regulated by the FDA. FDA regulation and oversight helps to ensure that reprocessed devices are substantially equivalent to new products.
Learn more about the history of reprocessing
1980-1990
Manufacturers begin using "single-use" label

Hospitals establish unregulated in-house reprocessing programs
1997-2000
AMDR is established as the trade association for third party reprocessing

FDA begins the regulation of reprocessing
2002
Congress enacts the Medical Device User Fee and Modernization Act (MDUFMA) to develop controls and regulation around reprocessing SUDs
2006-2008
FDA gives statement that "reprocessed SUDs that meet FDA's regulatory requirement are as safe and effective as a new device.2

GAO determines that FDA oversight has increased; data on reproccessing does not indicate an elevated health risk to patients3
2017-2018
Cardinal Health acquires Sustainable Technologies

Sustainable Technologies becomes a member of AMDR
Doing what's right for the environment should be right for your hospital, too. From the moment a device is collected at your hospital to the moment it is sold back– we are here for you. Our supply chain expertise, engaged field service team, and quality management system make this seamless care possible.
Follow the diagram to learn how we provide value in every step of the cycle.
Contact us if you are ready to begin reprocessing.
Our team is ready to help – from compression sleeves to cannulas, we are here to help you go green.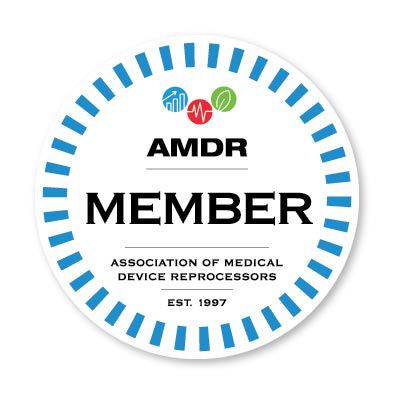 A proud member of AMDR
In 2018, Sustainable Technologies joined the Association of Medical Device Reprocessors (AMDR).  As the trade association for third-party reprocessors, AMDR focuses on providing value to the healthcare sector through reprocessing.
1 http://www.premiersafetyinstitute.org/safety-topics-az/reprocessing-single-use-devices/reprocessing-single-use-devices/
2 Statement of Daniel Schultz, MD, Director CDRH, before the Committee on Government Reform, September 26, 2006" in CDRH Home Page [online] (Washington, DC: FDA, Center for Devices and Radiological Health, 2006 [cited 22 March 2007]); available from Internet: http://amdr.org/wp-content/uploads/2017/03/FDAShultzStatement.pdf.
3 United States, Government Accountability Office. (2008). Reprocessed single-use medical devices: FDA oversight has increased, and available information does not indicate that use presents an elevated health risk: Report to the Committee on Oversight and Government Reform, House of Representatives. Washington, D.C.: U.S. Govt. Accountability Office.